Response to COVID-19
The COVID-19 pandemic has disrupted workplaces all over the world, impacting how we work and where we work. This event will have a deep and lasting impact on workplace technology, talent management, and global relocation.
While the crisis continues, NuCompass is engaging with HR professionals, industry organizations, and supplier partners to understand the new challenges and provide resources that help support talent mobility needs as businesses return to work.
NuCompass Research Survey
SURVEY RESULTS: Impact of COVID-19 on Workforce Mobility
NuCompass recently conducted a Flash Survey to identify the business and economic impacts of COVID-19 and highlight the implications for global mobility. The Survey Results show that the business community across the globe is experiencing extraordinary, unprecedented impacts resulting from the global COVID-19 pandemic. It is also having a significant effect on global mobility events and activities.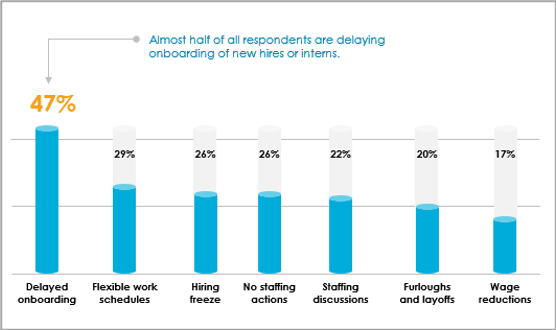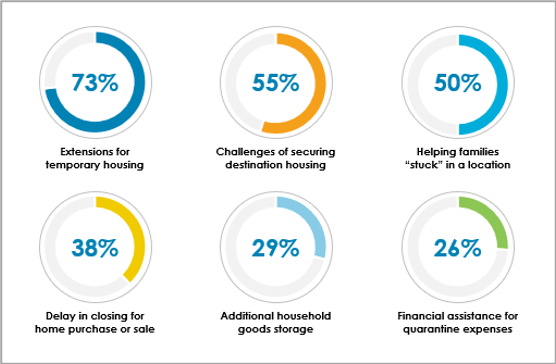 NuCompass Insights
COVID-19 Relief Bill and Relocation Alert
A key component of the coronavirus relief package provides U.S. individual taxpayers with a relief payment. Payment eligibility could be impacted by taxable income related to relocation activities. Full payments are limited to individuals with adjusted gross income of less than $75,000 and married couples with adjusted gross income less than $150,000.
Read More
COVID-19 Operational & Supplier Updates
Our team is continually compiling data related to all services in each country to ensure that our Consultants have the most current information available to provide the necessary support and assistance to families that you have entrusted to our care.
COVID-19 Operational Updates
Here's a quick look at some of the ways we're doing our part to provide the best possible service for you and your transferring employees and their families:
Coronavirus, EU Travel Ban, and Global Mobility
With continued concerns related to the COVID-19 virus and the new travel ban put in place by President Trump on March 11, 2020, the following areas may have an impact on your employee mobility programs:
Read More
Coronavirus Update: Potential Impact on Global Mobility
In the ongoing efforts to limit the spread of the coronavirus, many countries have issued restrictions and quarantines, especially as new cases continue to be confirmed outside of China.
Coronavirus Impact on Global Mobility
International assignees may be affected by travel bans, evacuation, or delays in household goods shipments. While there are ongoing uncertainties with the epidemic situation, the current issues include travel restrictions caused by temporary closure of departure channels within China and other jurisdictions.
Industry Insights
National Disaster Declaration & Impact on Mobility
The recent national disaster declaration by President Trump triggered provisions of IRS code 139, which allows employers to make disaster relief payments tax-free, which may impact certain non-taxable relocation expenses.
Enhanced Services as Moving Restrictions Ease
As the country begins to ease restrictions pertaining to COVID-19, we know that things will look different. In some cases, very different.
Worldwide ERC® Advocates on Paycheck Protection Program
While containment efforts are necessary, the governmental restrictions related to the coronavirus have impacted the ability of corporations to relocate employees, which has had a significant effect on relocation.
Press Pause
The COVID-19 pandemic is affecting us all in different ways, and sometimes you just need to press pause. Check out these great programs being offered to help you take a break.
Tour the Museums
https://artsandculture.google.com
Check out History
https://www.nyhistory.org/education/history-home
Travel for Free
https://people.com/travel/stuck-at-home-you-can-visit-these-world-famous-sites-from-your-couch-for-free/
See the Northern Lights