CoPilot Plus
CoPilot Plus offers a complete U.S. domestic relocation package for companies that relocate renters or offer a "managed cap move," and don't include a tax-protected home sale.
With CoPilot Plus, you have easy-to-use tools for authorization and monitoring the status of your relocating employees. Your employees get direct access to NuCompass service partners and can manage their own moves using any device. Employees receive recommendations on how to maximize the use of their funds throughout the move and receive support from a relocation consultant via online chat, email, or phone.
---
Features
Simplified authorization process
Interactive cost-estimating tool
A relocation plan and budget for each move
Approval routing
Efficient payment processing
Direct access to qualified service partners
Tax compliance and payroll reporting
Access to real-time status updates
CoPilot Plus Services
Lump-sum payments
Miscellaneous allowances
Household goods
Vehicle shipment
Temporary accommodations
Lease cancellation reimbursement
Rental assistance
Real-estate services — home sale and new home purchase
Home sale direct reimbursement
House-hunting reimbursement
Move-to-new-location reimbursement
Mobility Management Tools
Cost estimates
Relocation planning and budget
Approval routing
E-signature for repayment agreements
Cost management/budget vs. actual tracking
Core reports
Employee-service details
Real-time status
Payroll and tax compliance
Employee Portal
Support center
Workflow notifications
Timeline for relocation tasks
Direct access to vetted service partners
Service status details
Expense submission and reimbursement
Destination city content
Online chat support
Mobile app
---
Over 50 years of relocation experience have been applied to developing an innovative solution for companies just like yours.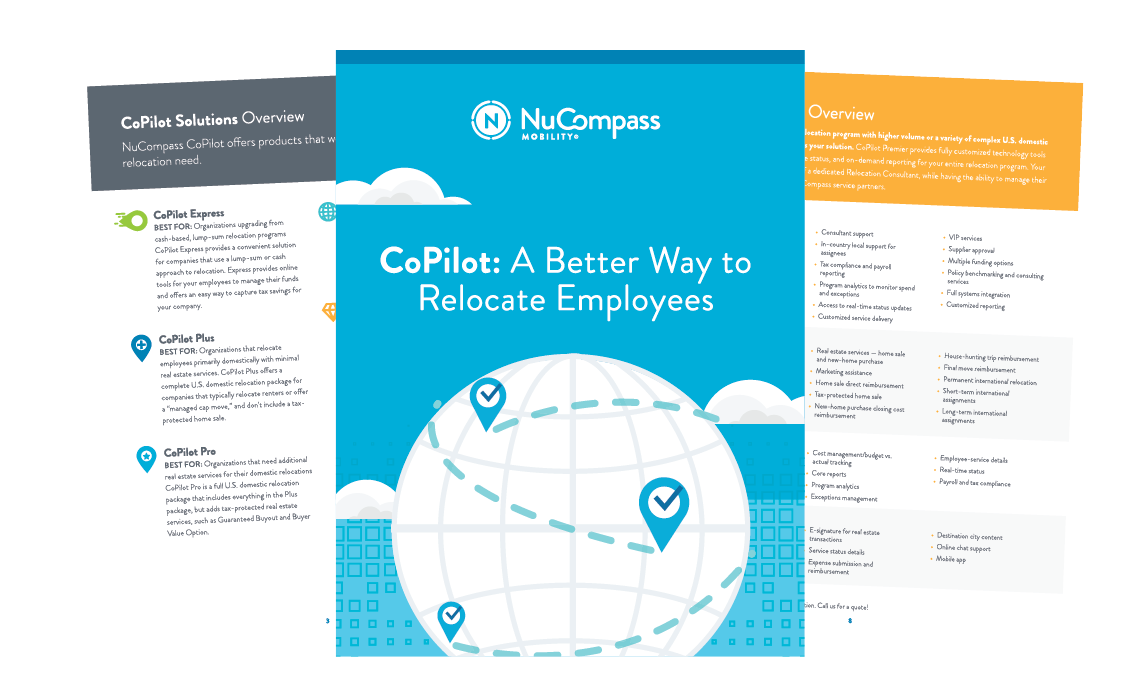 Compare All of Our Products
Get a comparison overview of the relocation technology we offer.